Excessive Demands: A critical look at section 38(1)(c) of Canada's Immigration and Refugee Protection Act
November 1, 2017 @ 1:30 pm

-

4:30 pm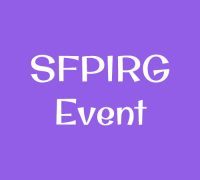 Part of Disability Awareness Week 2017, brought to you by the Committee To End Ableism!
While Canada champions itself as an open and welcoming country for immigrants and refugees from around the world, oppressive and discriminatory clauses in the Immigration and Refugee Protection Act explicitly exclude people with disabilities.
Join us for a critical discussion of the "Protection" Act, including a screening of the short film Safar (Journey) by Mariam Zaidi, and learn more about the importance of disability justice in the wider context of body sovereignty and diversity.
About the film and filmmaker:
Safar (journey) is a film about Mariam Zaidi's sister, Rabab, who has cerebral palsy. As part of the UAE's expatriate population, Zaidi's family is one of many that has no access to government healthcare and no option for permanent residency. Contrasting the opulence of Dubai with its absence of social benefits, Safar examines the lack of security felt by the UAE's expatriate population. The film focuses on Zaidi's family's attempt to migrate from the UAE to Canada, and its subsequent rejection based on the "excessive burden" clause of the Immigration and Refugee Protection Act.
With challenges from Canadian immigration, Zaidi attempts to embark on an alternate route by applying for citizenship alone, in the hopes of sponsoring Rabab as her dependent. The film addresses the loss of support the filmmaker's family has felt in her absence. Questioning rigid Canadian immigration policies that do not consider the nuances of each family situation, Safar challenges the way we look at people with disabilities in and outside of Canada as a "burden."
For more information about Disability Awareness Week 2017, including registration and accessibility info for all events, please visit: https://www.facebook.com/events/146130325964599/
Accessibility Info:
Unfortunately, we are unable to provide ASL interpretation for this event. ASL interpretation has been booked for another one of our events this semester, Power In Our Words: Talking About Sexual Violence. Please note the November 2nd deadline for registering and requesting ASL interpretation for that event.
The event space is wheelchair/scooter accessible with access to an accessible washroom nearby.
A gender-neutral washroom is available just outside and around the corner from the event space.
While we cannot ensure a fully scent-free event in this setting, we're aiming to create a scent-reduced environment by not bringing additional scents into the space. Exposure to laundry products, colognes, hairspray, and many other scented products can trigger serious health reactions in individuals with asthma, allergies, migraines, and/or chemical sensitivities. We ask that you not wear/ apply/ or bring any scented products into this space. If you do so, we may need to ask you to leave so others can safely stay in the space. If you find yourself being impacted by someone's use of scented products during the conference, speak with any one of the organizers. We know that this can be a big step for many people. As Leah Lakshmi Piepzna-Samarasinha says in Fragrance Free Femme of Colour Realness, "Cutting out scents may seem like a pain in the ass, but it means that awesome, ass-kicking community members you love can attend events you're at and make out with you without having seizures, throwing up or otherwise getting really sick." Please, bring your amazing self, and keep the scents at home!
(More info here: http://thinkbeforeyoustink.com/howtogofragrancefree.html,http://www.brownstargirl.org/blog/fragrance-free-femme-of-colour-realness-draft-15, http://eastbaymeditation.org/accessibility/scentfree.html)
The event is nut-free and peanut-free. Absolutely no nuts or peanuts will be permitted within the event space in order to create an allergen-free environment for all participants. This includes (but is not limited to) products like hazelnuts, cashews, almonds, coconuts, walnuts, coconut oil, coconut milk, and peanut butter.
If you have any other allergies or sensitivities that we need to know about so that you can participate fully and safely, please let us know at admin@sfpirg.ca.
Some folks are sensitive and/or get sick from electromagnetic frequency radiation (EMF). This can include radiation from cell phones, Wi-Fi, fluorescent lights, and more. SFU Burnaby has Wi-Fi set up throughout its campus, including in theevent space. In order to reduce EMF exposure, we will strive to minimize fluorescent light usage and utilize natural lighting whenever possible.
If there is any other way we can make this event more accessible for you, please let us know at admin@sfpirg.ca!