Communities here at SFU and beyond have so many people in it doing radical, innovative, and necessary things to create change. These are their stories!
Each month, our team will connect with organisers and practitioners to hear about ways they are pushing for change in their areas of expertise and work. Whether it be in areas of mental health, Indigenous sovereignty, abolition, or climate justice, we have so much to learn from the stories of those engaged in making a different. We will work to present these stories in a variety of ways from Instagram Live conversations to recorded or written interviews to artwork. Stay tuned for more stories added to the Community Sharing Project Collection!
Decolonising Mindfulness with Tiara Cash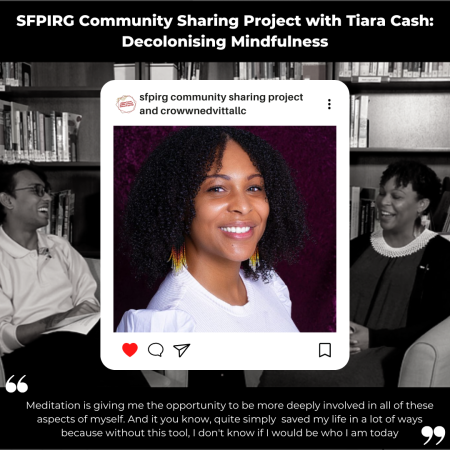 Our social media officer, Sharvesh was able to sit down with Tiara Cash, whose work with Equitable Mindfulness and Crowned Vitta LLC allows her to explore mindfulness, decolonial practices, and create processes for more equitable access to wellness. Listen in on their interview from the fall of 2021 to learn more about how to build a practice into your life and the impact having access to well-being changing the worlds around us!
There's a huge momentum towards individualism and competition. And so it's us against them. It's focusing on the self so that I can work better or I can I can be a better instead of understanding that like we are all connected and we are part of this mycelial network of humans and animals and the planet and so forth. So by bettering myself, I am innately bettering other people but I have to come in with that mindset
Equitable mindfulness: Presenting the concept of mindfulness to everyone, while being active in our respective communities by removing personal and systematic barriers that work against inclusivity and transformative change.
Find out more about Tiara and Crowned Vitta at crownedvitta.com/
Follow them on insta @crownedvittallc
Workers United Will Never be Defeated!
Our Social media Knowledge Mobilisation Officer Sharvesh speaks with TSSU Organizers Maria Christina and Felix about the students and workers from SFU who are the forefront of fighting for justice and equity on campus. Check out the InstaLive from November 2022!
Félix Ruiz de la Orden is one of the organizers at the Teachin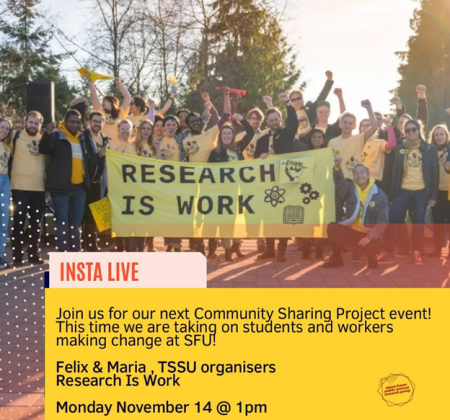 g Support Staff Union (TSSU). Before taking the organizer position, Félix was a steward in the Department of English at SFU, where he graduated with an MA. Since getting elected as organizer, he has worked alongside Maria and committed himself to the Research is Work campaign to get Research Assistants at SFU their first collective agreement. He has also recently started collaborating on a cost of living adjustment campaign to make SFU more affordable for graduate students.
Maria Cristina Albuquerque is a Brazilian SFU alumni and one of the Teaching Support Staff Union (TSSU) organizers. She studied and worked in the Faculty of Education during her masters. Since 2019, Maria has been involved in the union when the Research is Work campaign to unionize RAs restarted. Today, along with Félix, Maria is leading the still existing campaign to get Research Assistants a first collective agreement.
Resistance and Resilience in the Era of Ecological Grief with Sarah Law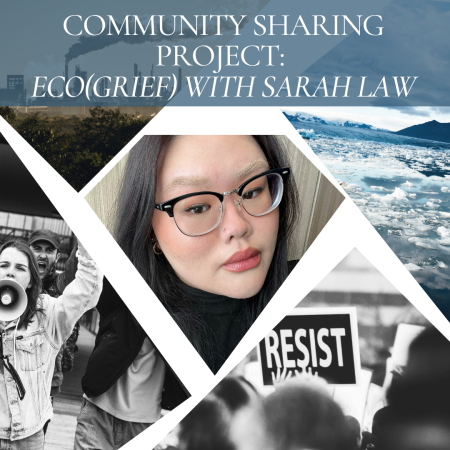 We were lucky enough to have SFU Masters student Sarah Law share thoughts and experiences of building community and movements around climate justice. Sarah's work focuses on how we honour the (climate)grief we feel at this time of massive, intersecting social justice issues and how we use this to build stronger change-making communities. Check out her interview here!
"Quite frankly, if there isn't a bit of panic, anger, sadness, or some kind of emotional response in coming to terms with what feels like "the end of the world", then I would start to worry."
Self Care and Decolonising Mental Health with Aleesha Zafar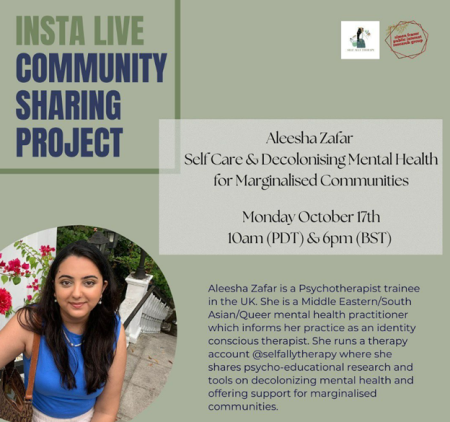 Our first Community Sharing Project featured a conversation between SFPIRG Director of Engagement Chantelle and Self Ally Therapy Founder Aleesha Zafar. We were thrilled to have Aleehsa join us as she is at the forefront of thinking about mental health, decolonising mental health, selfcare, and how people who have been marginalised can experience care outside of white constructions of well-being.
Check out the conversation from our InstaLive in October of 2022!