Communities here at SFU and beyond have so many people in it doing radical, innovative, and necessary things to create change. These are their stories!
Each month, our team will connect with organisers and practitioners to hear about ways they are pushing for change in their areas of expertise and work. Whether it be in areas of mental health, Indigenous sovereignty, abolition, or climate justice, we have so much to learn from the stories of those engaged in making a different. We will work to present these stories in a variety of ways from Instagram Live conversations to recorded or written interviews to artwork. Stay tuned for more stories added to the Community Sharing Project Collection!
Decolonising Mindfulness with Tiara Cash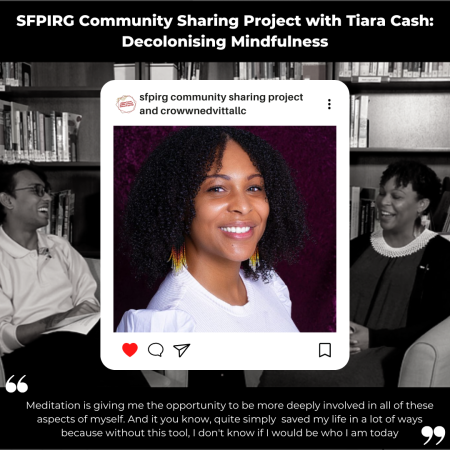 Our social media officer, Sharvesh was able to sit down with Tiara Cash, whose work with Equitable Mindfulness and Crowned Vitta LLC allows her to explore mindfulness, decolonial practices, and create processes for more equitable access to wellness. Listen in on their interview from the fall of 2021 to learn more about how to build a practice into your life and the impact having access to well-being changing the worlds around us!
There's a huge momentum towards individualism and competition. And so it's us against them. It's focusing on the self so that I can work better or I can I can be a better instead of understanding that like we are all connected and we are part of this mycelial network of humans and animals and the planet and so forth. So by bettering myself, I am innately bettering other people but I have to come in with that mindset
Equitable mindfulness: Presenting the concept of mindfulness to everyone, while being active in our respective communities by removing personal and systematic barriers that work against inclusivity and transformative change.
Find out more about Tiara and Crowned Vitta at crownedvitta.com/
Follow them on insta @crownedvittallc
Resistance and Resilience in the Era of Ecological Grief with Sarah Law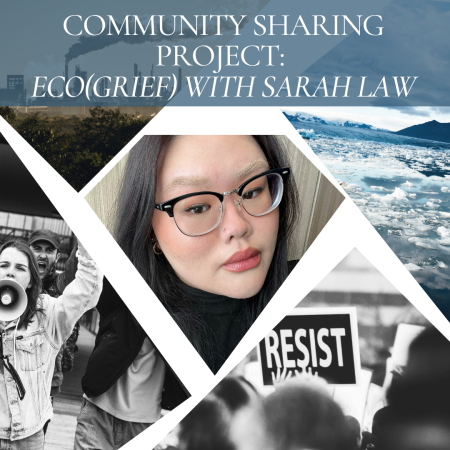 We were lucky enough to have SFU Masters student Sarah Law share thoughts and experiences of building community and movements around climate justice. Sarah's work focuses on how we honour the (climate)grief we feel at this time of massive, intersecting social justice issues and how we use this to build stronger change-making communities. Check out her interview here!
"Quite frankly, if there isn't a bit of panic, anger, sadness, or some kind of emotional response in coming to terms with what feels like "the end of the world", then I would start to worry."