The Simon Fraser Public Interest Research Group (SFPIRG) is a student-funded and student-directed resource centre dedicated to social and environmental justice.
PIRGs were established across North American campuses in the 1970's and 80's as a way for students to advocate for social change. SFPIRG was set-up by students on SFU's Burnaby campus in 1981. Since then, SFPIRG has engaged in all kinds of exciting work and has positively impacted the lives of SFU students and the wider community.
We are a registered non-profit organization with our own constitution and bylaws. We are governed by a student-led board of directors and we use consensus decision-making as the basis for our work. We have a team of three unionized staff who carry out the work of the organization. We are independent from the University, the Simon Fraser Student Society, and the Graduate Student Society.
SFPIRG is funded through student fees. Each semester we receive $3.00 from full-time undergraduate students and $1.50 from part-time undergraduate students. A successful graduate student referendum in Spring 2020 increased grad student membership fees and tied them to local inflation rates. As of Fall 2021 we receive $5.61 from full-time graduate students and $2.81 from part-time graduate students. After paying their student fees, all students are members of SFPIRG and can use the resources available through our centre. Non-students can also become associate members of SFPIRG and get involved with us.
We realize that not everyone believes in the goals of SFPIRG so we do offer students the ability to revoke their membership. We offer a fee refund period every semester, usually during the 4th week. Keep an eye on our events calendar for the fee refund period and procedures.
Shared History in the Rotunda
SFPIRG currently exists in the Students Union Building in room 1410, but we have had many homes across campus in the last 40 years and none was so dear as when we were a part of the Rotunda Group. Located above the transit loop between Convocation Mall and Beedie. the Rotunda had been a hotbed of student activism for many years. The Women's Centre and CJSF were the first to occupy Rotunda Space, with SFPIRG, ASAD, FNMISA (then FNSA), and Out On Campus joining them in 1996. As student groups moved into the Rotunda in the late 19960's, staff and volunteers found ways to work together on many issues facing students – organising films festivals, parties, co-sponsored workshops, reading groups, events, and a Rotunda library!
The Rotunda Group included:
Simon Fraser Public Interest Research Group
CJSF
Students of Caribbean and African Ancestry (SOCA)
FNMISA (First Nations, Metis, and Inuit Students Association)
Out on Campus
the Women's Centre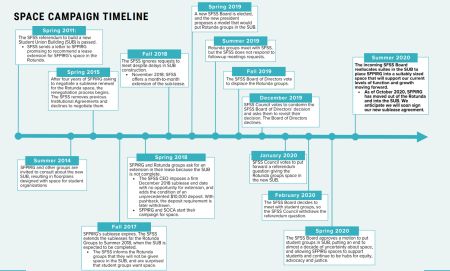 The Rotunda Group also fought together (for over ten years!) with Embark, the Peak, and the Disability and Neurodiversity Alliance to ensure that we were able to continue to share and create vital space for students on campus during the construction of the new Students' Union Building. We look forward to ongoing work together with new and old comrades to support students in their activism and to create welcoming and safe spaces on campus for years to come.