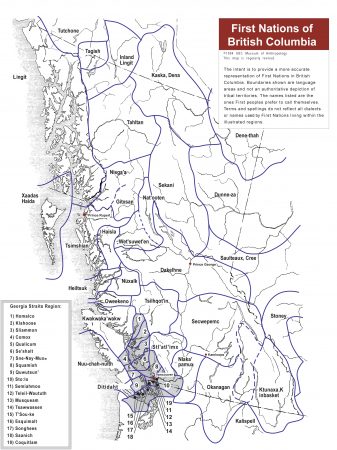 We acknowledge that SFPIRG occupies unceded Indigenous land of Coast Salish peoples. Unceded means that this land was never surrendered, relinquished or handed over in any way. We recognize that the unceded land that we occupy includes not only the SFU Burnaby Campus, but extends to the land occupied by the Vancouver and Surrey campuses of SFU as well.
Based on our current knowledge*, this includes the territories of the following First Nations:
We seek to support the varied strategies that Indigenous peoples are using to protect their land and their communities, and we commit to dedicating time and resources to working in solidarity. We acknowledge that we, as people living and working on these lands, are accountable to the laws and protocols of the people who have cared for this land since time immemorial. It is our intention to continue learning how to honour this responsibility.
Today, most of BC remains unceded sovereign Indigenous lands, over which neither the Canadian or BC governments have the legal or moral authority to govern.
For more information about territory acknowledgements, unceded Indigenous land, and SFPIRG's approach to decolonization and truth-telling, check out our zine: SFPIRG, Truth-Telling & Decolonization. Paper copies are available at SFPIRG!
*If we have it wrong or you know more information about whose land we're on, please contact us at education@sfpirg.ca. Thank you.