In the Summer of 2022, SFPIRG teamed up with the SFU Graduate Student Society to present a series on research ethics that go beyond the legal or liability-based ethical considerations one usually experiences in the course of graduate studies. During these three events, researchers shared a diverse knowledge and expertise on how we move beyond institutional research ethics to enacting real forms of consent, accountability, and care in how we do research. Our topics will cover community-based ethics, the role of ethics in artistic practice, and how we do more ethical data collection and analysis. We hope to continue hosting these events into the future as the realm of how we do research better is a constantly unfurling journey. If you have suggestions for event topics or speakers, please let us know!
Event 1: Empowering Community-Based Ethics: Research 101
Held on Wednesday May 11, 2022, 11-12:30pm, we hosted  Dr. Scott Nuefeld and Nicolas Crier as co-authors of Research 101: A Manifesto for Ethical Research in the Downtown Eastside, Nic and Scott have much to share with graduate students about how community-based ethics are created and engaged with by academic researchers. Building from a recent book chapter produced for SFU's Community-Engaged Research Initiative (CERi), their 90-minute presentation included a creation story of the Manifesto, how it has evolved, and how we enter into research in more ethical and empowering ways. To learn more about Research 101, please visit our website here.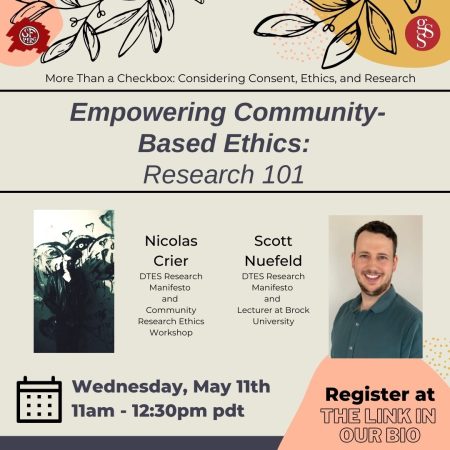 Additional Resources from this event:
A link to the audio recording and transcript can be found here.
Nicolas's slides can be found here
A forthcoming book chapter on how the work has grown since Research 101 can be found here.
Information about the Community Engaged Research Workshop can be found here.
Jane Finch Research principles (toronto): https://janefinchresearch.ca/research-principles

Readability websites for plain language writing (there are paid ones that are much cleaner looking, but these open source tools do the trick!):
Event 2:  Beyond Institutional Ethics in Art Practice
On Wednesday May 25, 2022, 11-12:30 we were so honoured to host Lois Klassen + Roxanne Charles-George.
As we discussed in the previous event, there can be quite a gap between institutional and community ethics, as well as how Indigenous researchers expect for their own protocols to be respected in the course of their research. Within artistic practice there are consent and ethical protocols that go well beyond those required by the Office of Research Ethics and just don't seem to fit into the application. This panel hosted researchers and artists engaged in ethical practices who are thinking about how art can be done in thoughtful ways that work to build communities or advance political ideas for communities.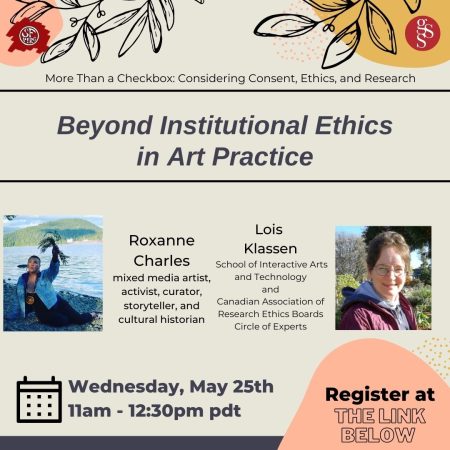 Additional Resources for this event: