Board Nominations 2020
February 24, 2020

-

March 9, 2020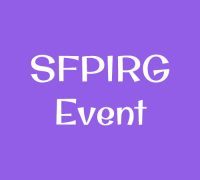 Want to make a difference? Join SFPIRG's Board of Directors!
Nomination period is February 24th to March 9th, 2020
Nominations info session is February 27th from 12:30-2:30pm @ SFPIRG, TC 326 in the Rotunda
Get active in social and environmental justice!
Gain valuable experience in leading a non-profit organization!
Learn about governance, finances, HR, visioning and more!
Help support a vibrant student organization!
Interested? Want to learn more? Attend the nominations info session or email our Independent Electoral Officer at eo@sfpirg.ca. The 2020 nomination packages will be available during the nomination period to download from this page, by emailing eo@sfpirg.ca or by visiting the SFPIRG offices at TC 326 in the Rotunda.
We encourage those from under-represented groups on campus, as well as those with a strong intersectional analysis, to put forth a nomination. We are looking for between 3 and 9 candidates. If we receive more than 9 nominations, we will hold elections.