Organize with us! Get active in social and environmental justice! Support a vibrant student organization and make a difference in your communities!
Join SFPIRG's Board of Directors!
SFPIRG is a student-run and student-funded resource centre for social and environmental justice! We are run by a student-led Board of Directors that govern SFPIRG, guide our vision and direction, and help us engage students and community in social and environmental justice! We especially encourage those from under-represented groups on campus, as well as those with a strong intersectional analysis, to put forth a nomination.
Are you interested in joining? Read on!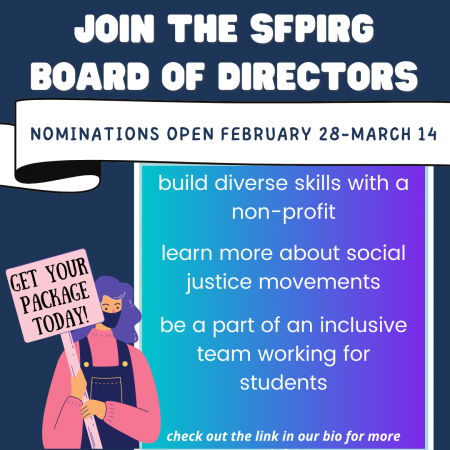 Important dates
2022 Nomination period: Monday February 28 to Monday March 14th at 5pm.
Drop-in info sessions run by our Independent Electoral Officer about the nomination process:
Learn more!
How to apply
Your nomination package is composed of five different parts. Please submit all items by email to eo@sfpirg.ca, by 5pm on Monday March 14, 2022. Make sure you read the information package and nomination package!
Here are the items to submit:
Complete, sign and submit this online nominations form (typed "signatures" not permitted for the online form).
Attach a candidate statement for use in election materials, if elections (more than 9 members are successfully nominated) happen (200 words max)
Provide answers to the following questions:

Why do you want to be a board member of SFPIRG?
What plans do you have for your term on the SFPIRG board?
What do you understand social and environmental justice to be?
What social and environmental justice issues are you passionate about?
What life experiences do you have that will contribute to you work as a board member of SFPIRG and the diversity of the organization?
Are you aware that SFPIRG supports reproductive justice, gender and sexual diversity, and believes that people have the right to be and choose their own gender? Are you comfortable, as a board member, in upholding these values?

Email a photo (300 dpi, jpg preferred) to include in the poster and on the website in the case of elections
Frequently Asked Questions
How many board members are there?
SFPIRG has 3-9 board members. Our current board has 3 people on it.
How long is the Board of Directors term?
The Board of Directors term is from the beginning of May 2022 to the end of April 2023.
What is the time commitment? How many meetings are there per month?
The time commitment is 3-5 hours per week. There will be at least one 2-hour meeting or training every two weeks.
When do elections happen?
Elections only happen if there are more than 9 people nominated to be on the Board. If there are more than 9 applicants, the campaign period will run March 17-30.
Who can be a part of the Board?
Anyone who is a member of SFPIRG can be part of the Board! All SFU students are SFPIRG members, unless you have requested to revoke your membership and have your fees reimbursed. Most often, Board members are SFU students, but staff, faculty and community members are also encouraged to apply! A maximum of 2 Board members can be non-students.
We especially encourage those from under-represented groups on campus, as well as those with a strong intersectional analysis, to put forth a nomination.
What does the Board do? What would my responsibilities be?
The role of the SFPIRG Board is to support SFPIRG's projects and committees. As a board member, you will be a key part of the planning, visioning and setting of priorities for the organization, and you'll work with staff on our projects. You're also responsible for the organization's governance, which includes abiding by SFPIRG's constitution and bylaws, as well as the collective agreement signed by SFPIRG's unionized staff.
What can I learn on the Board?
You will have the opportunity to learn more about social and environmental justice issues, and to take action and organize for transformative change on- and off-campus. You will grow your skills around consensus-based decision making, meeting facilitation, non-profit governance and financial management skills. And, you will learn about community research, organizing and building community grounded in care and liberation.
Do I have enough experience to be on the Board?
Yes! This is an opportunity for your to learn and grow! No one can have all the solutions, and everyone has a role to play in movements for social and environmental justice!
What is SFPIRG's decision-making approach?
We use consensus-based decision making as the basis for our work! This decision making model works to include everyone's input, with the goal of support solutions that everyone actively supports, or at least can live with. The goal is to weave together everyone's best ideas, listen closely and address concerns, and find solutions that work for everyone.