Campaign Coordinator Contract Posting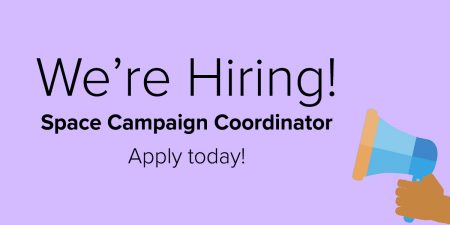 21 hours/week
Wage rate:   $20.91/hour
Starting date: Week of July 2nd, 2018
End date: November 30th, 2018, w/ possibility of extension
Application deadline: Tuesday, June 19th, 2018, at 4pm
This is a contractor position external to the bargaining unit.
The Simon Fraser Public Interest Research Group (SFPIRG) is a student-funded and student-directed resource centre dedicated to engaging students and community in social and environmental justice. Established in 1981, the organization is a registered non-profit society governed by a student board of directors and managed by a unionized staff collective (CUPE 3338 Unit 7). SFPIRG strives to be non-hierarchical in its structure and consensus decision-making is used at all levels of the organization.
Position Overview:
SFPIRG is currently involved in an ongoing campaign to secure long-term, leased space at SFU's Burnaby campus. For more information about the space campaign, please visit: https://sfpirg.ca/help-sfpirg/
SFPIRG is looking for a second part-time campaign coordinator to join our current campaign coordinator in order to support and expand SFPIRG's space campaign. The campaign coordinator is considered a contractor position, and the position works closely with the permanent staff collective. The position involves extensive work with volunteers, the SFPIRG board, temporary staff and students. Applicants must be able to balance multiple tasks at once, work efficiently in a busy environment and provide a strong leadership role in organizing and mentoring SFPIRG's volunteers as part of the campaign. An emphasis on process is key, meaning that applicants must value collective work and consensus decision-making within an intersectional anti-oppression framework.
Duties and Responsibilities:
Collaborative development and implementation of campaign strategy
Social media management and content creation
Campaign content creation, e.g. newsletters, updates, etc
Campaign outreach, such as gathering petition signatures, postering, and leafleting
Institutional relationship-building with campus and community stakeholders through in-person and written correspondence
Event planning to promote campaign awareness and engagement
Volunteer recruitment through engagement and outreach
Coordination of student volunteers and workstudy staff in campaign tasks
Mentorship of student volunteers in articulating their respective political and social identities in relation to the campaign
Facilitation and coordination of coalition and volunteer meetings
Ideal Skills and Experience:
Experience with coordinating or implementing a campaign targeting a public institution
Commitment to social and environmental justice and progressive social change, with a strong intersectional anti-oppression analysis and practice
Familiarity with SFU campus organizational structures and relationships
Ability to build effective relationships, and ability to work collaboratively and interact respectfully with a variety of partners on challenging issues
Excellent communication skills, including clear written and verbal communication, conflict resolution, facilitation, ability to openly give and accept feedback
Ability to exercise considerable judgment and demonstrate diplomacy, tact, and discretion
Interest and experience working in a mentorship capacity with young adults
Knowledge of SFU campus resources and services
Knowledge of related issues facing University students
Ability to be self-directed, to work collaboratively, to problem-solve, to take initiative when appropriate, and to organize and prioritize work
Experience and interest in working in a collective setting using consensus
Flexibility and willingness to negotiate and identify strategies that help all staff members in being as well and effective as possible in what is unquestionably a hectic shared office environment
A sense of humour and a commitment to compassion
Application Procedure:
SFPIRG is an affirmative action employer. In order to increase the range and diversity of skills, perspectives, and experience presently existing within SFPIRG, hiring preference shall be given to qualified applicants from groups who face systemic barriers to employment, including systemic barriers that often go unnamed and unacknowledged. Applicants who wish to be considered for affirmative action are encouraged to discuss this in their cover letter. We also encourage applicants to include other skills and experiences in addition to those outlined above. SFPIRG is committed to accommodating people with mental and physical disabilities, including, for example, obtaining necessary adaptive technologies.
Please submit cover letter and resume by email to:
Email:  admin@sfpirg.ca
Attention: Campaign Coordinator Hiring Committee
Please include cover letter and resume in ONE attached document, with your name as the title of the file.
Application deadline is Tuesday, June 19th, 2018, at 4pm.
No phone or email inquiries please. Late applications will not be accepted.
Only short-listed applicants will be contacted. This will happen on Thursday, June 21st, 2018.
Interviews will take place on Tuesday, June 26th, 2018, and on Wednesday, June 27th, 2018.