Usamah Ansari Creative Justice Award Deadline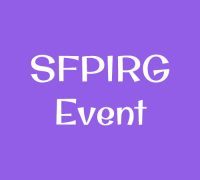 Usamah Ansari Creative Justice Award – $500 grant for a creative resistance project
In memory of SFPIRG volunteer Usamah Ansari, this annual award supports creative social justice work including art, poetry, music and writing. Individuals or groups can apply. Priority given to SFU students with a fully realizable creative resistance project in support of student activism and social justice on campus.
Deadline to apply: February 22nd, 2018!
For application forms and grant information and criteria, visit our grants page!