Usamah Ansari Creative Justice Award Deadline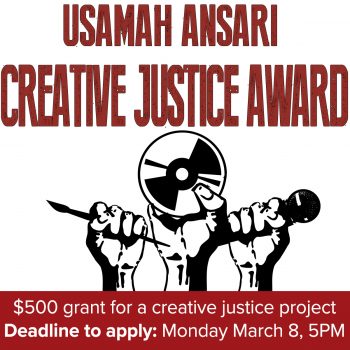 In memory of SFPIRG volunteer Usamah Ansari, this annual award supports creative social justice work including art, poetry, music and writing. Individuals or groups can apply. Priority is given to communities of colour, refugees and youth. The 2021 application deadline is Monday, March 8th, 2021 at 5pm. Unique to Spring 2021, priority will be given to SFU students with a fully realizable creative resistance project in support of student activism and social justice on campus. Make sure to apply early!
Learn more about Usamah's work and legacy here!
How to Apply
Here is the application form for the Usamah Ansari Creative Justice Award. Please fill out this form as a Word Document, using as much space as necessary to answer each question, and submit by email as a Word Document to admin@sfpirg.ca before 5pm on March 8th.