Rita Wong: "Letters to Our Loved Ones: A Writing Workshop"
March 7 @ 11:30 am

-

1:00 pm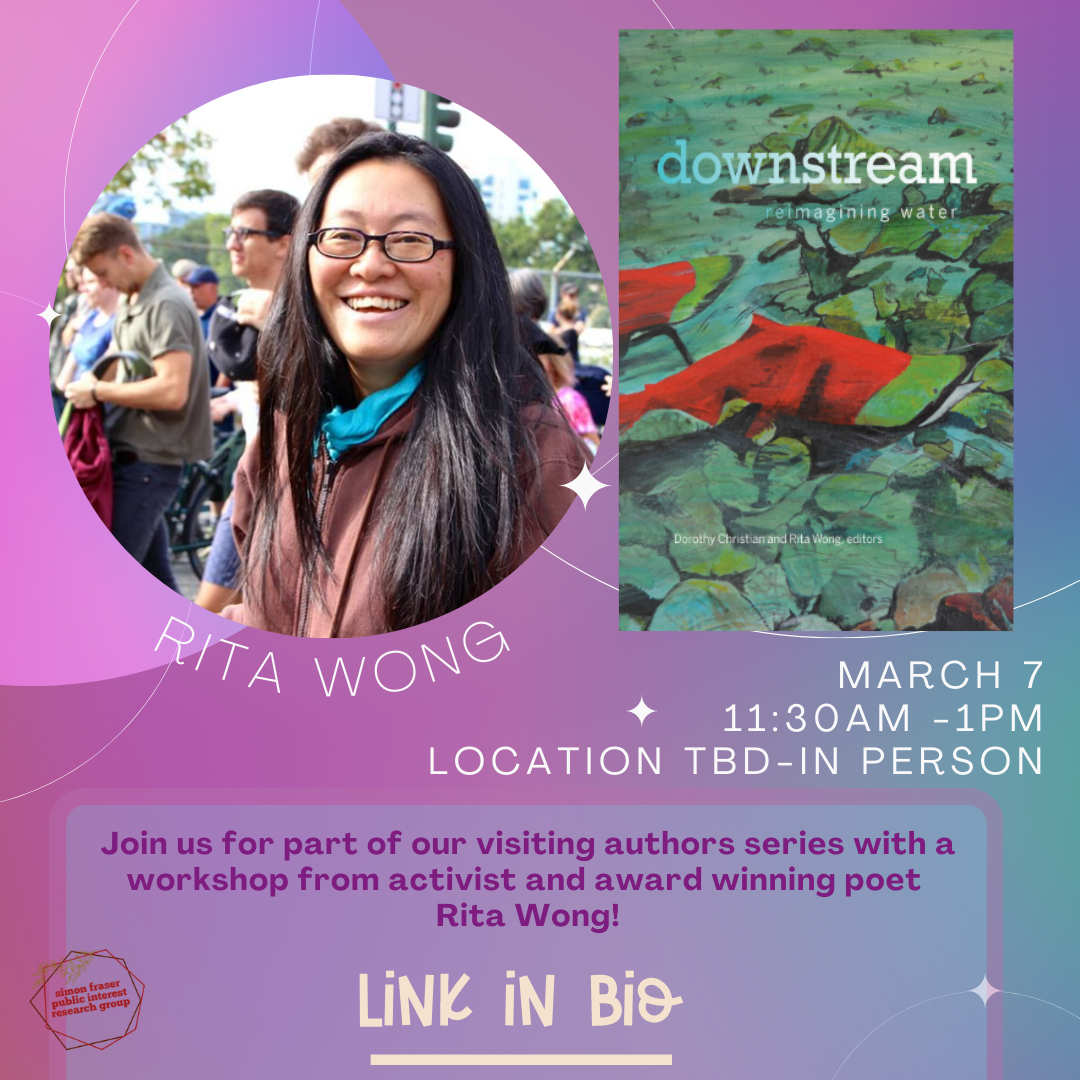 SFPIRG Rotunda Library is excited to announce the next session of our visiting author series with Rita Wong. Rita Wong grew up in Calgary, Alberta, and is the author of three books of poetry, 
sybil unrest
, written with Larissa Lai; 
forage
, and 
monkeypuzzle 
as well as co-edited collection 
downstream: re-imagining water.
 Wong has won the Asian Canadian Writers Workshop Emerging Writers Award and the Dorothy Livesay Poetry Prize. Her work investigates social issues and ecology. She lives in Vancouver and is an associate professor in critical and cultural studies at Emily Carr University of Art and Design.
It is human to feel grief when we see places we loved being sacrificed, as we see happening on Burnaby Mountain. Ecological grief is a global condition, which we experience in specific locations as we see trees clearcut and streams poisoned by industrial projects like the TransMountain pipeline expansion. Rita Wong will introduce the 1308 Trees project, a collection of letters written to some of the thousands of trees that have been  killed for the pipeline expansion, at the very time when we needed more trees, not less. She will invite workshop participants to write their own letters and poems or to make offerings for their beloved more-than-human relatives: the trees, the hummingbirds, the creeks, the salmon, the orca, the nooksack dace, and more, all of whom are losing their lives and/or homes to the pipeline expansion. Acknowledging the grief, voicing it, is a step in processing it, and finding ways to transform it into collective action, to honour the lives that have been lost and continue to be threatened, including our own.
We will announce a full list of accessibility considerations once we are sure which location we will be using for this event.
SFPIRG will provide all physical writing supplies. we do encourage folks to handwrite for this workshop, but if typing is more accessible please bring your own tablet or laptop.
We will provide a variety of different seating options for the many types, accessibility needs, and shapes of bodies present.
We re not able to provide ASL interpretation for this event