Release, Reset Restore Series
January 19 @ 1:00 pm

-

3:30 pm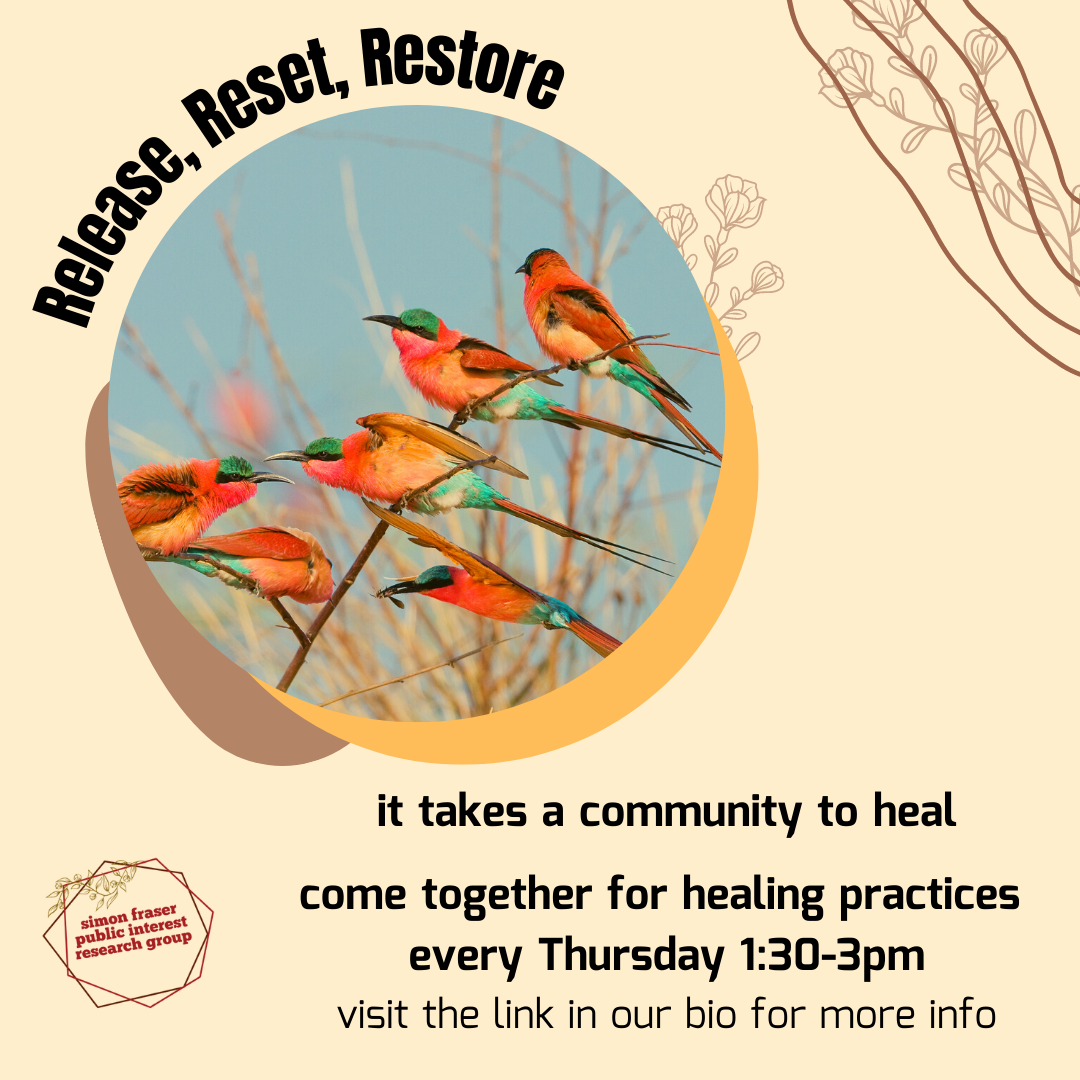 Looking for a community to heal and grow with? Are you dealing with racism, sexism, or other oppressive/problematic content in the course of your work, organising, or studies? Are you looking for a confidential and supportive space? Are you looking for community with folks who also care about social justice? Come and help us build a sanctuary space for you and your fellow students!
Join SFPIRG for our 2023 Care-based Office Hours series for SFU undergrad and grad students! Release, Reset, and Restore will take place on Thursdays from 1:30 to 3pm, starting on January 12. The last session will be on April 30. We will not host a session during reading week. Sessions will alternate between in-person and on-line sessions to meet the needs of our community members.
Each week will focus on a different aspect of healing and wellness, though there is flexibility to respond to the needs of the session members. Activities include mindfulness activities, sharing circles, artistic practice, collective journaling, or sharing resources for those who need further support and guidance.
Please note that these are group support sessions, and so conversations may take place of a sensitive or challenging nature. In order to support a safer environment for all, we ask participants to be respectful, considerate, and compassionate throughout all sessions. Participants who are harassing, discriminating against, or deliberately harming others will be removed from the room. We hope you find community, healing, and ideas for ways forward. Please fill out your information in this form and we will email you the Google Calendar invitation, with a Zoom link included for the sessions happening online, at least 1 hour prior to the next event. This link will work for all Office Hours sessions. Your information will be kept confidential.
Reach out to us at engagement@sfpirg.ca if you have any questions!
By registering, you will be added to the Google Calendar event series, and will be registered for the full Release, Reset, Restore series of events – drop into any session! You only need to RSVP once! Dates and topics for the series are: 
January 12 (in person): Making Space for Joy
January  19 (online): Boundary Making
January 26 (in person): Community Care and Finding our Resources
February 2 (online): Finding our rest
February 9 (in person): Decolonising Wellness
February 16 (online): open session
March 2 (in person): TBD
March 9 (online): TBD
March  16 (in person): TBD
March 23 (online): TBD
March 30 (in person): TBD
Please complete this registration form so we can send you the secure link.