More Than a Checkbox : Beyond Institutional Ethics in Art Practice
May 25, 2022 @ 11:00 am

-

12:30 pm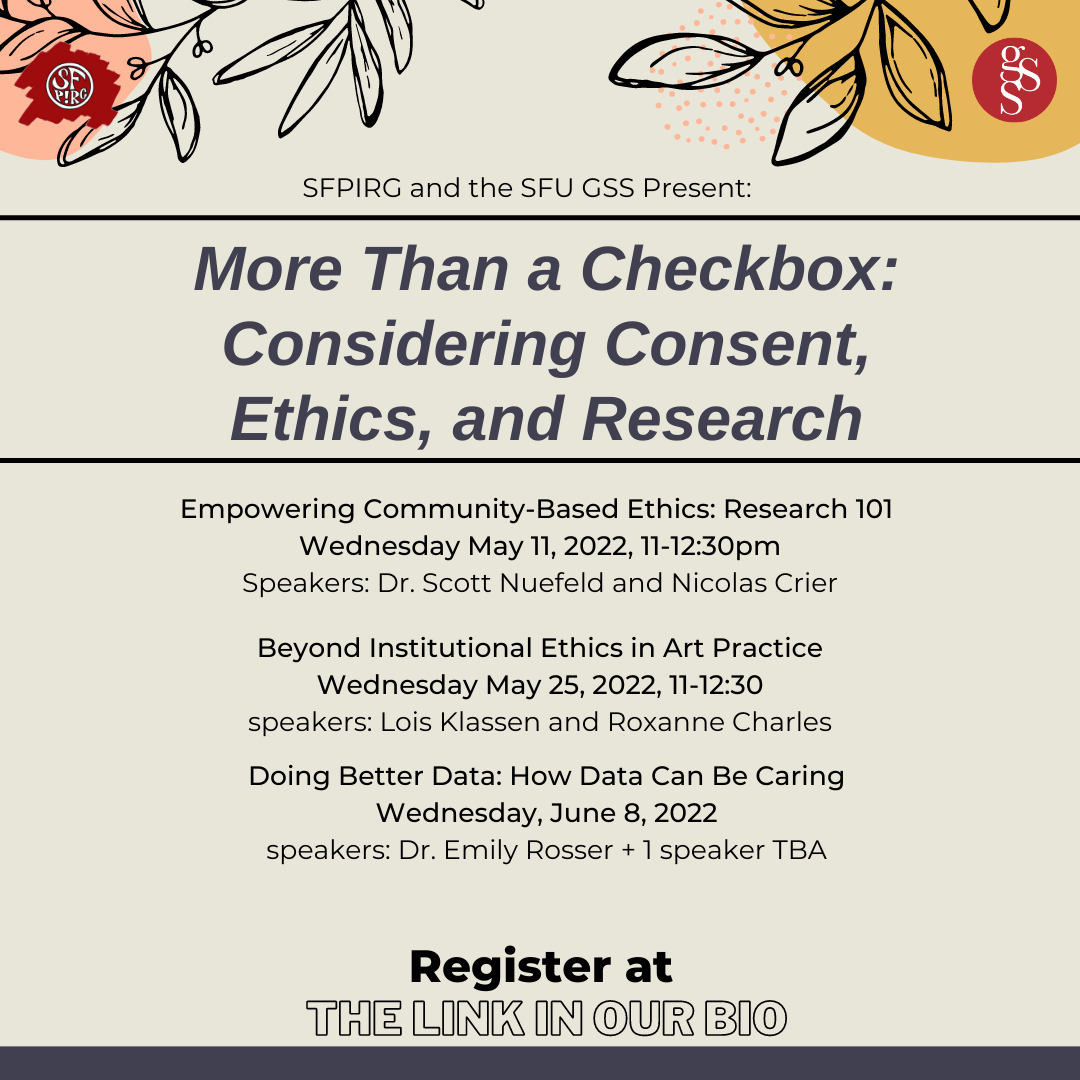 The SFU Graduate Student Society (GSS) and the Simon Fraser Public Interest Research Group (SFPIRG) are pleased to co-host this series on research ethics for graduate students across BC. During these three events, researchers will share a diverse expertise on how we move beyond institutional research ethics to enacting real forms of consent, accountability, and care in how we do research
This event will delve into the difference between institutional and community ethics can be quite a gap. There are consent and ethical protocols that go well beyond those required by the Office of Research Ethics and just don't seem to fit into the application. This panel hosts researchers and artists engaged in ethical practices – who are thinking about how art can be done in thoughtful ways that work to build communities or advance political ideas for communities. We will close with questions and ways to talk about these ethical considerations in research applications.
Register here: https://forms.gle/NQXukHn6Cd6Sh6DW6 
Speakers: Lois Klassen + Roxanne Charles
Roxanne Charles of Semiahmoo First Nation is a cultural historian employing means of visual representation, oral history, and ceremony. Roxanne holds two undergraduate degrees from Kwantlen Polytechnic University and a Master of Fine Arts from Simon Fraser University. Roxanne's work directly responds to a troubling colonial present and documents a variety of issues that reflect her life experience such as spirituality, identity, urbanization, food security, resource extraction, trauma, and various forms of systemic violence.
Lois Klassen is an artist, writer and researcher working and living on traditional and unceded Coast Salish territory. Klassen is a SSHRC Postdoctoral Fellow with criticalMediArtStudio (cMAS) in the School of Interactive Arts and Technology (SFU Surrey) and a parttime research ethics board coordinator at Emily Carr University of Art + Design. Klassen was a 2020 Fulbright Scholar with Center for Inter-American Border Studies and the Ruben Center for the Visual Arts, University of Texas El Paso. Klassen's research and writing takes up ethics and participatory art practices—a topic she covers for the Canadian Association of Research Ethics Boards Circle of Experts. Lois Klassen is the founder of Light Factory Publications, an itinerant publishing house that hosts the artist project, Reading the Migration Library, and the imprint, Present Cartographers.