Fee Refunds – Spring 2021 Semester
February 8, 2021 @ 10:00 am

-

February 18, 2021 @ 2:00 pm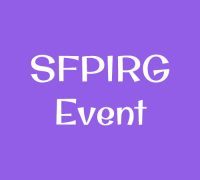 SFPIRG is a student-funded non-profit organization, autonomous from the University, Simon Fraser Student Society, and the Graduate Student Society. Each semester we receive $3.00 from full-time undergraduate students and $1.50 from part-time undergraduate students. Following a successful graduate student referendum in Spring 2020, we receive $5.50 from full-time graduate students and $2.75 from part-time graduate students. After paying their student fees, all students are members of SFPIRG and can use the resources available through our centre. Non-students can also become associate members of SFPIRG and get involved with us.
We realize that not everyone shares SFPIRG's values, so each semester we offer students the ability to revoke their membership. If you would like to opt-out, please see the COVID-19 update below. Once you opt-out, you are no longer a member of SFPIRG and will not be eligible to use the organization's resources and services.
*COVID-19 Update* Due to the COVID-19 pandemic, fee refunds will be administered differently for the Spring 2021 semester only. To receive more information about opting out of your SFPIRG membership for the Spring 2021 semester, please send an email to admin@sfpirg.ca between the dates and times listed below.
Opt-Out start time: Monday, February 8th – 10am
Opt-Out end time: Thursday, February 18th – 2pm