Equity Support Group – for TAs and TMs
November 17, 2020 @ 1:00 pm

-

3:00 pm

Free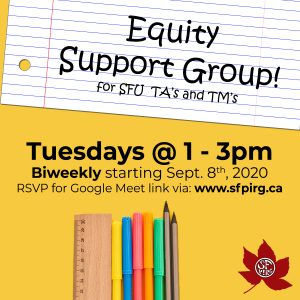 Attention all SFU TAs, TMs, RAs, grad facilitators, and sessional instructors! SFPIRG is here to support you!
Are you dealing with racism, sexism, or other oppressive/problematic content in the course of your work? Are you looking for support with how to respond to instances of oppressive/problematic content in students' work, or from your colleagues? Are you looking for community with folks who also care about social justice? You're not alone!
Join SFPIRG for our Fall 2020 Equity Support Group series – exclusively for SFU TAs, TMs, RAs, grad facilitators, and sessional instructors! The Equity Support Group takes place biweekly on Tuesdays from 1-3pm, starting on September 8th, 2020. The last session will be on December 1st. The full list of dates is below.
Drop into any of the sessions to get support with:
How to respond to problematic things that come up in students' work or from your colleagues
How to apply equity / intersectionality / anti-oppression in the context of your research / studies / work

Processing how you're doing, handling what's happening for you

Tracking down other resources, supports, etc.
Please note that these are group support sessions, and so conversations may take place of a sensitive or challenging nature. In order to support a safer environment for all, we ask participants to be respectful, considerate, and compassionate throughout all sessions. Participants who are harassing, discriminating against, or deliberately harming others will be removed from the room.
We look forward to connecting with you this Fall!
How to attend:
RSVP using the form below at least 1-hour prior to any Equity Support Group session. Please register using the full name and email you will be signing into the Google Meet session with, putting this information into the "Send RSVP confirmation to" fields.

Please note: if you register less than 1-hour prior to a session, we cannot guarantee that you will receive the event link for that session.

Participants will be added to the event series within the 1-hour prior to each session. If you do not receive an invitation, please be sure to check your spam folder.

You will receive a Google Calendar invitation, with a Google Meet link included. This link will work for all Equity Support Group sessions!
You will be added to the Google Calendar event series, and will be registered for the full Equity Support Group series of events – drop into any session! You only need to RSVP once.

Questions? You can reach us at education@sfpirg.ca for more information!
Full List of Equity Support Group Dates:
September 8
September 22
October 6
October 20
November 3
November 17
December 1