Calling All Queers! Discussion Group & Sticker-Making Party
December 3, 2019 @ 10:30 am

-

5:30 pm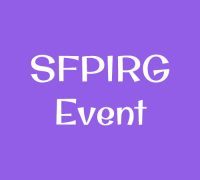 Calling all queers! Are you…
Invested in trans visibility?
Fighting against police brutality?
Advocating for equitable work spaces?
Telling others that you're a Space Ace?
Let the world know – with a sticker!
Join us for a discussion session on queer issues that are relevant to you, and design a cool sticker to take home! Open to all queers and conscientious allies, as well as folks new to queer activism!
Tuesday, December 3rd
SFPIRG Lounge, TC 326
Two drop-in sessions:
10:30am-12:30pm
3:30pm-5:30pm
Accessibility
The event is nut-free and peanut-free. Absolutely no nuts or peanuts will be permitted within the event space in order to create an allergen-free environment for all participants. This includes (but is not limited to) products like hazelnuts, cashews, almonds, coconuts, walnuts, coconut oil, coconut milk, and peanut butter.
The SFPIRG lounge is wheelchair/scooter accessible, with access to an accessible washroom one floor down by elevator and on the other side of the Transportation Centre.
Gender-neutral washrooms are available just down the hall from the event space.
In order to enable people to attend without experiencing hardship, Compass tickets and money for dependent care (this can include childcare, eldercare, etc.) are available upon request. Please email admin@sfpirg.ca with inquiries.
Low-scented markers will be available, but will not be unscented.
While we cannot ensure a fully scent-free event in this setting, we're aiming to create a scent-reduced environment by not bringing additional scents into the space. Exposure to laundry products, colognes, hairspray, and many other scented products can trigger serious health reactions in individuals with asthma, allergies, migraines, and/or chemical sensitivities. We ask that you not wear/ apply/ or bring any scented products into this space. If you do so, we may need to ask you to leave so others can safely stay in the space. If you find yourself being impacted by someone's use of scented products during the conference, speak with any one of the organizers. We know that this can be a big step for many people. As Leah Lakshmi Piepzna-Samarasinha says in Fragrance Free Femme of Colour Realness, "Cutting out scents may seem like a pain in the ass, but it means that awesome, ass-kicking community members you love can attend events you're at and make out with you without having seizures, throwing up or otherwise getting really sick." Please, bring your amazing self, and keep the scents at home!(More info here: http://thinkbeforeyoustink.com/howtogofragrancefree.html, http://www.brownstargirl.org/blog/fragrance-free-femme-of-colour-realness-draft-15, http://eastbaymeditation.org/accessibility/scentfree.html)
If you have any other allergies or sensitivities that we need to know about so that you can participate fully and safely, please let us know at admin@sfpirg.ca.
We regret that ASL is not available for this event.
If there is any other way we can make this event more accessible for you, please let us know at admin@sfpirg.ca!