Boards, Societies, & Governance: Equipping student leaders for success! (Cancelled)
September 29, 2017 @ 10:30 am

-

5:30 pm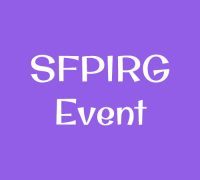 CANCELLED: Ironically, due to scheduling conflicts with another SFU student society's essential governance practices, we have been forced to cancel this workshop. We will be running this workshop again in early May 2018 for all students occupying seats on Boards of Directors at SFU, as well as any students who are interested in learning more about Boards, societies, and governance. If you and your Board are interested in scheduling this workshop for your Society, before May 2018, please contact us at info@sfpirg.ca.
---
Workshop Description:
Have you recently joined a non-profit society's Board of Directors?
Are you considering running for election to a non-profit society Board, but not sure what a Board of Directors actually does?
Join other campus student leaders for some free, hands-on governance training and come away with a better understanding of non-profit societies, Boards of Directors, and your own role in campus society governance!
Explore questions like:
What is a "non-profit society"? How does it function?
Who are "members"? What role do they play?
What are the duties and powers of a Board of Directors?
What are Constitutions and Bylaws?
Why is good governance a vital part of successful leadership?