All-Student Society Orientation Session
September 30, 2020 @ 3:30 pm

-

5:30 pm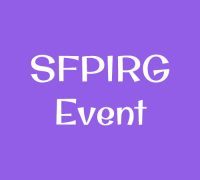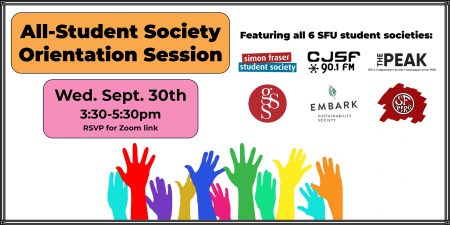 RSVP: https://www.eventbrite.ca/e/all-student-society-orientation-session-tickets-121802411291
Attention all SFU students! Did you know that you're a member of several student societies on campus? These student societies are made up of students like you, and are here to serve, support, and engage you! Join all SIX of SFU's student societies for the first-ever All-Student Society Orientation session – brought to you virtually!
Join us on September 30th from 3:30-5:30pm to learn more about each of the student societies and what they offer to you, and how you can get involved in student governance on campus! The orientation session will include a 10-minute presentation from each society, followed by a Q&A session!
All undergrad students are members of the Simon Fraser Student Society (SFSS), representing the interests of and advocating for all undergrad students!
All grad students are members of the Graduate Student Society at SFU (GSS), representing the interests of and advocating for all grad students!
And ALL students, both undergrad and grad, are members of the Simon Fraser Public Interest Research Group (SFPIRG), Embark Sustainability Society, CJSF 90.1FM, and The Peak Publication Society! These societies:
Engage students and community in social & environmental justice
Engage students in change making and inspire sustainability leadership
Engage students in radio programming that is diverse, independent, and yours!
Provide a platform for students to get involved with journalism at SFU and voice their views to the entire student body
Register using the Eventbrite link to get access to the All-Student Society Orientation Zoom session! Space is limited, so register early!
RSVP: https://www.eventbrite.ca/e/all-student-society-orientation-session-tickets-121802411291
If you can't attend, don't worry! The session will be recorded, so you can still get all the information by watching the recording afterwards. You can also participate by sending questions for any of the societies in advance by emailing communications@sfpirg.ca.
Learn more about the student societies, and some of our campus constituency groups, by checking out the Navigating SFU's Student Socities Brochure: https://sfpirg.ca/wp-content/uploads/2020/09/student-societies-brochure-2020-v5.pdf
Welcome (back) to SFU – we're excited to have you join us!
SFSS
GSS
SFPIRG
Embark
CJSF
The Peak