The SFU Bike Tool Coop is a shared tool and work-space program run by students! Being a co-op, the workshop and tools are open to everyone to use. Use it to maintain your commuter bike or for a quick tune-up before going off-road on Burnaby Mountain!
Join us and help promote do-it-yourself bicycle repairs and maintenance, and, in turn, cycling at SFU !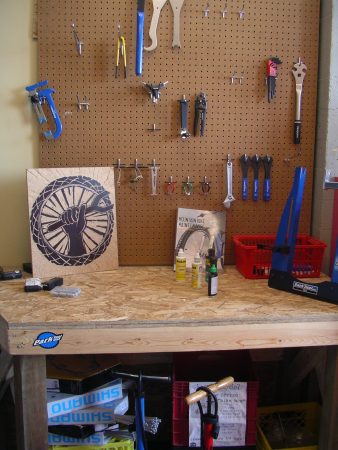 To access the space:
Drop by the SFPIRG office (TC326 in the Rotunda) and pick up the key between the following hours:
Monday – Friday
10:30 a.m. to 4:30 p.m.
All welcome!
Tools Available in the Co-op:
Want to know what tools we have available in the Bike Tool Co-op and what they are used for?
---
The SFPIRG Bike Co-op is maintained by our Bike Co-op Coordinator, Abhi. If you have any questions or need to contact him, send himan e-mail using the button below. You can also drop by during his office hours for assistance with basic repairs and maintenance!
Abhi's office hours start on September 26th, and are:
Tuesdays – 10:30am-12:30pm
Thursdays – 10:30am-12pm