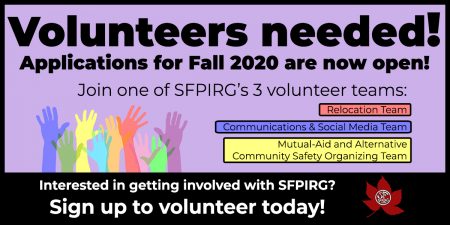 SFPIRG is made up of students and community members like you! Many of our programs and services rely on the generous time and support of volunteers. Are you interested in volunteering with SFPIRG? Applications for the Fall 2020 semester are open now, featuring remote volunteer projects! Apply using the SFPIRG Fall 2020 Volunteer Form today! Below are our current volunteer projects:
Volunteer Projects
:: RELOCATION TEAM:
Supports SFPIRG's relocation from our current office and lounge space in the Rotunda to our new organizational suite in the SUB! This volunteer team is unique to Fall 2020. SFPIRG will be packing up our lounge, library, office, and more – and moving everything to our new organizational suite in the SUB! Volunteers will assist with: packing books, office supplies, and other items from SFPIRG's current space; cleaning SFPIRG's current space; and moving packed boxes to the new organizational suite in the SUB. Due to the nature of this volunteer team, volunteer work will take place in person with supervision from SFPIRG staff. Volunteers will be familiarized with SFPIRG's COVID-19 Safety Plan and protocols prior to their first volunteer shift, and will be required to sign a release form.
:: COMMUNICATIONS & SOCIAL MEDIA TEAM:
Supports SFPIRG's community outreach and engagement strategy, initiatives, and activities to promote core programs, services, and campaigns to the SFU community. Volunteers will assist in curating and drafting regular and ongoing content for SFPIRG's social media platforms, as well as researching and curating educational materials and tools for the Info Hub on SFPIRG's website. Creativity and an interest in engaging with other students online is encouraged! Experience with drafting social media copy is an asset, but not required!
:: MUTUAL-AID & ALTERNATIVE COMMUNITY SAFETY ORGANIZING TEAM:
Supports the Mutual-Aid & Alternative Community Safety Organizer workstudy project. The purpose of the project is to raise awareness about the movement to defund/abolish the police, and to explore practical strategies for building individual and community capacity for responding to social harms without recourse to governance through violence. Volunteers will learn about movements to defund/abolish the police and efforts to build alternatives, for example: mutual aid organizing, community-based violence prevention and intervention, etc. Volunteers will also assist with developing educational materials and community engagement strategies, and engaging in online or other pandemic-safe strategies for education and organizing. Interest in organizing community safety alternatives is a must – but prior knowledge of the issues is not required!
Volunteer today!
Interested in volunteering with SFPIRG? Apply to volunteer today!