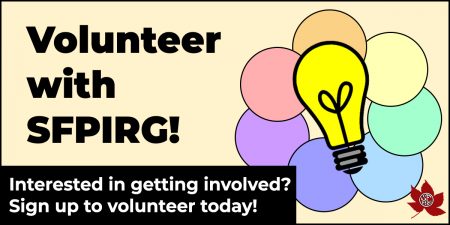 SFPIRG is made up of students and community members like you! Many of our programs and services rely on the generous time and support of volunteers. Are you interested in volunteering with SFPIRG? Applications for the 2019-2020 school year are open now! Apply using the SFPIRG 2019-2020 Volunteer Form today! Below are our current volunteer projects:
Volunteer Projects
:: COMMUNITY OUTREACH STREET TEAM:
Supports SFPIRG's community outreach and engagement strategy, initiatives, and activities to promote core programs, services, and campaigns to the SFU community. Volunteers will assist in delivering classroom talks and tabling events, and will assist with putting up posters around campus.
:: DISORIENTATION WEEK PLANNING TEAM:
Supports DisOrientation Week, an alternative orientation week of panels, workshops, and other events, and resources (a Guide) intended to connect SFU students and community members to critical analysis, insight and research about a range of social and environmental justice issues. Volunteers will assist in developing and organizing the DisOrientation Guide & Events.
:: EQUITY-BASED REVIEW OF ACADEMIC DEPARTMENTS & EDUCATION GUIDES TEAM:
Supports an equity-based review of specific academic departments, and the development of department-specific Equity Education Guides (e.g. Critical/Equity Guide to Health Sciences). Each Guide will examine the curriculum and methods used in a given department, and provide suggestions, readings and other resources to support students, faculty and departments in expanding & complicating their approach to the field. Volunteers will assist in engaging with the campus community to identify what outcomes students and instructors would like to see from such a Guide, and will develop a student research road-map that will be used in the next stage of the project.
:: LETTERS FOR THE INSIDE RESEARCH TEAM:
Supports Letters for the Inside (LFTI), a nationally-recognized, volunteer-led project run through SFPIRG since 2007, that aims to improve prisoners' access to information by providing prisoners with research assistance from students on issues that are important to them. Volunteers will assist with responding to prisoners' research requests.
:: LIBRARY, LOUNGE & BIKE TOOL CO-OP OVERSIGHT COMMITTEE:
Supports the expansion of services for marginalized communities at the SFPIRG Resource Centre Library, Lounge, and Bike Tool Co-op. Volunteers will assist with developing, promoting, and facilitating Resource Centre programming and events; circulating and curating the Social Justice Lending Library; and maintaining the Bike Tool Co-op.
:: RACIAL & MIGRANT JUSTICE PEER EDUCATORS TEAM:
Supports educating the SFU campus community about anti-racist and migrant justice by providing educational workshops and programming; to raise awareness, share information, and resources. Volunteers will assist in delivering and facilitating educational workshops and programming.
:: SFPIRG BOARD OF DIRECTORS:
SFPIRG is an independent, student-funded Society. To ensure that our work reflects the ideas and values of the student community at SFU with whom we work, SFPIRG is managed by a student-directed Board of Directors. The Board of Directors guide the direction, vision, and growth of SFPIRG. The Board of Directors are responsible for the Society as defined by the BC Societies Act and the SFPIRG Constitution and Bylaws. The Board of Directors also act as the Employer as defined by the Collective Agreement with CUPE.
Interested in volunteering with SFPIRG? Apply to volunteer today!