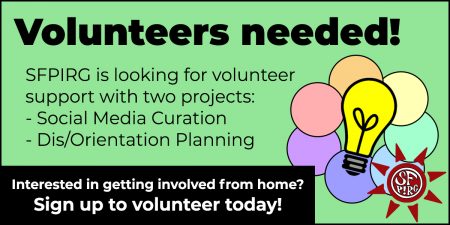 SFPIRG is made up of students and community members like you! Many of our programs and services rely on the generous time and support of volunteers. Are you interested in volunteering with SFPIRG? Applications for the 2020 summer semester are open now, featuring remote volunteer projects! Apply using the SFPIRG Summer 2020 Volunteer Form today! Below are our current volunteer projects:
Volunteer Projects
:: COMMUNITY OUTREACH STREET TEAM:
Supports SFPIRG's community outreach and engagement strategy, initiatives, and activities to promote core programs, services, and campaigns to the SFU community. Volunteers will assist in curating and drafting regular and ongoing content for SFPIRG's social media platforms.
:: DISORIENTATION WEEK PLANNING TEAM:
Supports DisOrientation Week, an alternative orientation week of panels, workshops, and other events, and resources (a Guide) intended to connect SFU students and community members to critical analysis, insight and research about a range of social and environmental justice issues. Volunteers will assist in developing and organizing the DisOrientation Guide & Events.
Interested in volunteering with SFPIRG? Apply to volunteer today!