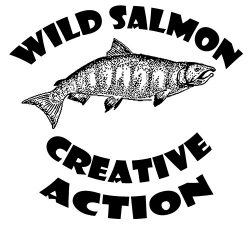 The Wild Salmon Creative Action Group will utilize creative ways to raise consciousness about issues related to the protection of Wild Salmon, the aquatic ecosystem, and the communities that depend upon it. Moreover, we are dedicated to the liberation of all beings, and believe in art and creativity as the catalysts for shifts in thought and inspiration to fuel progressive solutions.
Why Wild Salmon?
We hope that through the culture of creativity many people can share facts, ideas and concepts about non-violent, artistic responses. Wild salmon is not only a keystone food supply for indigenous people that has existed for thousands of years, but it is a cultural, medicinal, and spiritual life force for all who have come to experience it.
---
If you'd like to get involved or have any questions about our activities, send us an e-mail!