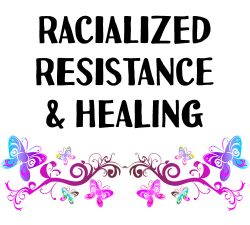 Our goal is to provide an anti-oppressive, safe, decolonized, and accessible space for racialized folks on campus. Racialized refers to folks who identify as Black, Indigenous, Mixed Race, and/or People of Colour (BIMPOC).
Our goals
This Action Group is led by, for, and with folks who identify as racialized. We recognize that there is a lack of safe spaces for us on campus, and we are collectively organizing and building community to support each other and offer spaces for healing. Our goals are to build resilient communities, solidarities, and learn about and organize around movements that resonate with group members. We are a grassroots collective with a commitment to anti-oppression, intersectionality, and decolonization. We acknowledge that these are ongoing learning processes, and are committed to translating our values into action and holding each other accountable in meaningfully compassionate ways that nurture collective growth.
---
Interested in getting involved with us, and helping create safe spaces for racialized students at SFU? Please fill out our quick questionnaire, and one of our members will get in touch with you!
---
Want to get in touch with us? Send us an email!