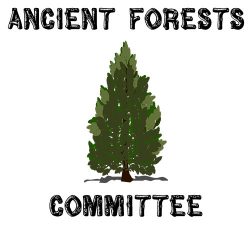 The Ancient Forests Committee is a committee of SFU students who are affiliated with the Ancient Forest Alliance (AFA). The AFA is a new British Columbian non-profit organisation working to protect the endangered old-growth forests of BC and to ensure sustainable forestry jobs in the province. They work to:
Inform & mobilise a broad-based movement involving concerned citizens, First Nations, politicians, businesses, unions, faith groups, & scientists. We organise rallies, hikes, presentations, meetings, petition drives, & media campaigns.
Undertake expeditions to document our grandest ancient forests and their destruction through professional photography and videos.
Help train and guide new activists to build campaigns in their communities.
Why Save Old-Growth Forests?
Old-Growth Forests are important because they are home to a large array of biodiversity, including many species at risk that can't flourish in younger forests. Furthermore, they help counteract climate change by storing 2 to 3 times more atmospheric carbon per hectare than the second-growth tree plantations that they are being replaced with and provide clean water for people, salmon, & wildlife. They are also a fundamental pillar of BC's multi-billion dollar tourism industry. Finally, Old-growth Forests are important parts of many First Nations cultures.
To date, approximately 75% of the productive Old-Growth Forests on Vancouver Island and the Lower Mainland have been logged, including 90% of the valley bottoms where the largest trees grow. Despite this, the logging continues.
---
Interested in helping us preserve BC's ancient forests? To get involved or to find out more, connect with us!